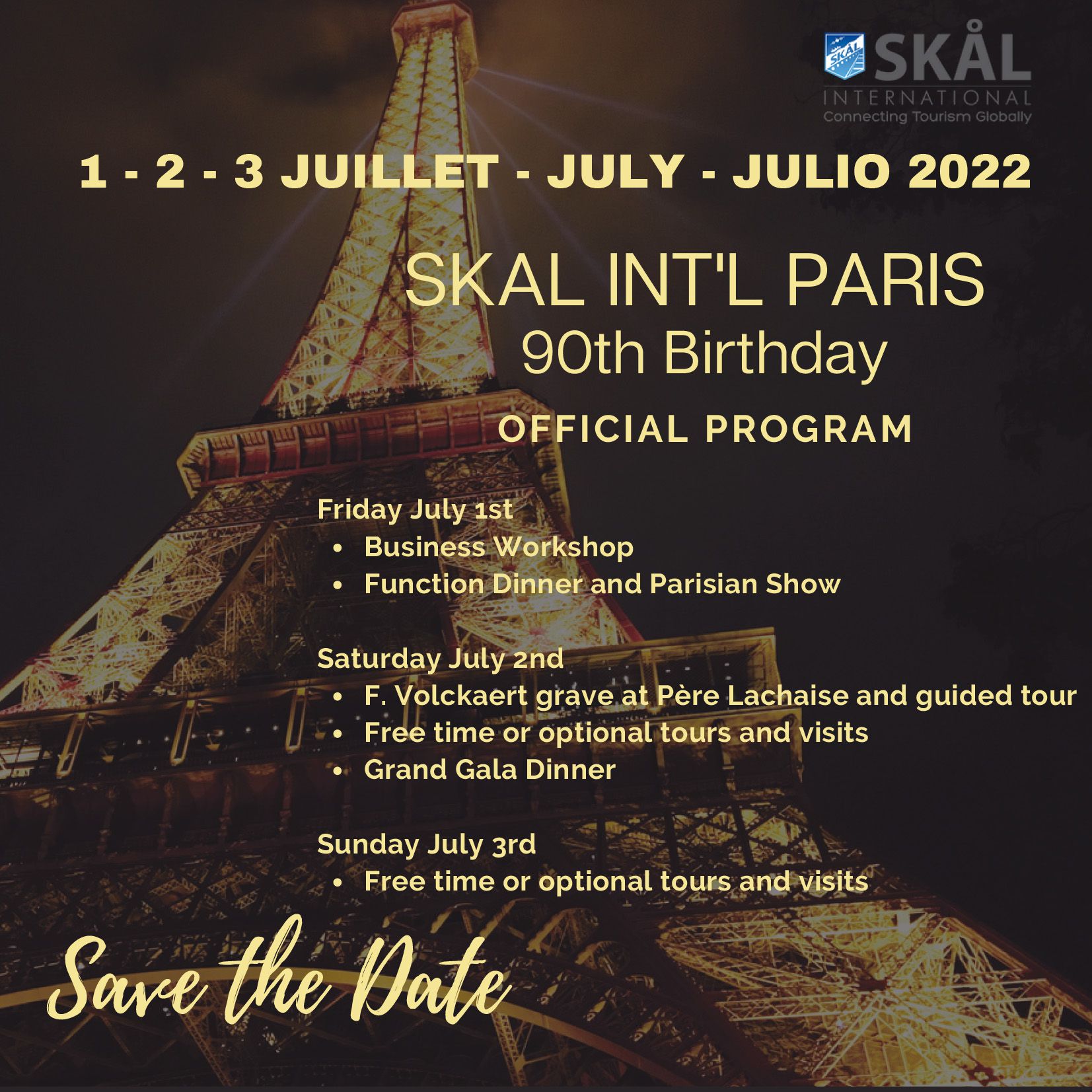 SKAL Paris will be 90 in July – and you're invited to the Party in Paris
Skål International members are invited to attend the 90th-anniversary celebration of Skål International Paris club number 1! Mark down July 1-3, 2022
The club board is working to propose you a fabulous and unforgettable experience!
We thank our World President Burcin Turkkan and Michael, grandson of the 'Father of Skål International', Florimond Volckaert, who have already confirmed their participation!
Even if you have already visited Paris, there are many more places you will discover!
July 01, 2022
14h-16h: Welcome speech from Karine Coulanges & World President Burçin Turkkan.
Welcome drink.
B2B exchange between Skål International members and our partners.
Coffee break.
18h30: Transfer from hotel by coach to 'Paradis Latin' fabulous dinner show: ' L'oiseau de Paradis'.
23h00: Transfer return to hotel.
July 02
Breakfast Room in the hotel at your best convenience.
10h00 meeting in the lobby for Transfer to Père Lachaise Cemetery for a tribute to the founder of Skål International Florimond Volckaert in presence of his grandson Mickael Volckaert.
12:00: Transfer to Hotel Scribe, Skål International Paris, historical Head Office.
Lunch cocktail at Hotel Scribe.
14h00: 'Flyview 360', a fantastic new attraction in Paris (5 minutes walk from Hotel Scribe).
15h00: Visit 'Hotel de la Marine' at Place Concorde. Or free time for shopping why not Galeries Lafayette.
18h30: Transfer from Hotel to the 'Sénat France' for cocktail & Gala dinner.
22h30: Transfer back to the hotel.
Hear from Skål International Paris President Karine Coulanges.
For more information on SKAL go to www.skal.org